Back
Next product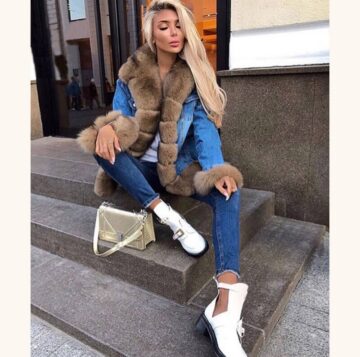 $

580.00
Sally
100% Real Fur Parka
$550.00
Or 4 interest-free payments of $137.50 with
or
100% Real Fur Parka
Big fox fur collar parka with natural rabbit fur lining.
| | |
| --- | --- |
| Category | |
| Material | |
| Size | |
| Length | 70cm |
How do I place an order?
It couldn't be easier to place an order with us. We've broken it down into simple steps for you to follow:
Pick your items
Go to checkout
Log into your account (optional)
Add any promo codes (optional)
Enter your details
Select your payment method
Order confirmation
For more detailed instructions follow this link.
What payment methods can I use?
You can pay using Visa, MasterCard, American Express, Discover, PayPal and Aria Moda's Gift Card. These payment methods are all 100% secure. All submitted personal and payment information is encrypted and secure. Credit card payments are managed by 2Checkout, our business partner.
DELIVER TO: Worldwide
Standard Shipping
Delivered on or before Friday, 29 December 2023
No tracking information available
Express Shipping
Delivered on or before Tuesday, 19 December 2023
Once your order is shipped, you'll receive a tracking link to follow your parcel
29.00€
Free - until 1st of January
What is the delivery time?
At Aria Moda, we understand the importance of receiving your order in a timely manner. That's why we estimate a delivery time of 5-7 business days, with the initial 3 days reserved for production and the following 2-4 days for shipping. Business days are Monday-Friday, excluding national holidays.
Delivery Time = Production Time + Shipping Time
* We aim to meet these delivery times but during busy periods (including sale) deliveries may take a little longer. However, we will always work hard to keep these temporary changes to a minimum.
What are my delivery options?
All orders are currently shipped via DHL express shipping free of charge.
Where do you deliver?
We now deliver our products to over 225 countries worldwide. Simply select your country when filling out the shipping information on checkout.
Can I return my items?
We hope you love everything you buy from us!
If for any reason you are not completely satisfied with your purchase from Aria Moda, then we're fine with that too. The FASTEST way to get a refund or exchange for your item is to return it to us within 30 days of receiving the goods (sale items within 15 days).
If you want to return items to us, please remember they should be in their original condition at the time of return and be accompanied by a valid proof of purchase. You'll need to cover the cost of postage for your return.
What are my return options?
You have 3 options when returning:
Refund: Receive a refund back to your original payment method. Returns must be received within 30 days from the date when you received any items you bought to be eligible for a refund. But, there are 2 more alternatives:
Exchange: Love it, but need a different size, color, or style? No problem! Exchange requests must be received within 30 days of receipt of the items. Exchanges are always free!
Store Credit: We're sorry your order didn't work out, so let us make things right. If your return arrives back to us within 30 days of your receipt date, you can receive an Aria Moda's store credit for the amount of your return that you can use toward finding something else you'll love.
* Please note that shipping costs are not refundable. Although not nominally paid, these costs will be deducted from the full refund. In case of an exchange, we will cover these costs.
How do I choose the right size?
Check out our size guide. Keep in mind that we use standard sizes, so we suggest selecting the size you usually wear. To be on the safe side and ensure that the order will be made to measure, please make sure to fill in the requested measurements during checkout.
Share your thoughts!
Let us know what you think...